In the Fall of 2008 the significance of this month took a deep hold of my heart.
Long story short, we were considering adoption.
We wanted to adopt a child with special needs,
and had narrowed our search down to a few disabilities that seemed "do-able".
We had worked with our state some,
and were told finding a child with down syndrome to adopt domestically
was difficult and how long the waiting list was.
I felt led to put out feelers in Ecuador
since our church had worked there in missions for several years.
(there were no little girls in Ecuador on
Reeces Rainbow
at that time)
I felt it was important to be surrounded by community.
A beautiful family heard of our quest and had volunteered at an orphanage.
We were sent the photo of a darling little girl that was almost three years old.
This is the first photo we saw of our Lil G.
(what I started calling her due to international adoption privacy)
Over the next two years we worked until she was home safe and sound.
Lil G came home to America August 1,2010.
Our story is different than many other families that have a child with Down syndrome.
We chose her because she was born with a little extra.
Over the past two years of having a daughter I have learned a lot about myself.
This is our story.......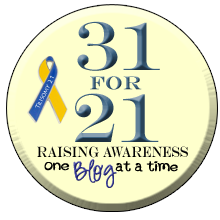 Grab This Button