"Those who look to him are radiant,
and their faces shall never be ashamed."
Those almond shaped eyes.
I cannot get enough of them.
There are times that I catch a glimpse of heaven on her face.
Scientifically and medically I know a little bit about Down Syndrome
the way her palmar creases are
The extra little gap between her big and little toes
(perfect for flip flops I might add)
for who she is as a person.
I forget all about that label.
and I have to look harder to see
I remain,
Under His wings,
Anna
Linking up with:
31 days here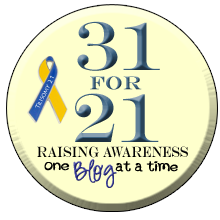 Grab This Button