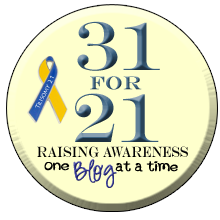 Grab This Button
Hey readers! this is the first year I get to participate in 31 for 21 as the proud parent of a child with Down Syndrome! Im not quite sure how I am going to "do this" but if you know me I will probably just jump right in with both feet. I am also going to snoop around and see if I can find a few more blogs that have some information that could be useful as we navigate through the ups and downs of it all......
This weekend was FULL!
My parents came down to meet Miss G.
I hadn't put it on my calendar because sometimes life throws a curve ball and I didn't want to get my hopes up, only to be disappointed that they changed their mind or to find out that circumstances helped them. Since Mom and Dad drove down my sister and her family came too. They all stayed with my Grandpa and that meant a FULL house for him. My cousin and her daughter are staying with him, then my aunts and uncles that live close by drove over each day and we just enjoyed hanging out together. The weather was incredible!!!! (today I am actually COLD!) Last night my Sisters family and parents came our way to have supper. Paul cooked a new "Alton Brown recipe" ..... AWESOME pork tenderloin with lime and chipotle pepper marinade. Listen ladies, you HAVE to give this a try. I cant wait to do it with brown rice as a side to drizzle the marinade/ juice on. It was easy, or at least Paul said it was.... ;) Yes I thanked him. I made sweet potatoes, weve been enjoying them peeled and tossed with olive oil salt and baked in the oven.... YUM-O. My daughter and her husband and my son and his girlfriend were here. (Ive asked them to save Sunday evenings for me.) I really feel the need to have all my peeps in the nest once a week at least. I know they are busy, I understand when things come up, but to have a goal is good.Donchathink???
I enjoyed watching Miss G interact with the family, her reaction to the noise and business.... some moments were better than others. Ive decided that I am going to call my cousin and have play dates with her daughter. They will be here until December I think. It will be good for Miss G to learn some playtime etiquette and for us to be with my grandpa. He doesnt live that far away but I just have a hard time getting over to visit because its out of the way.
I also wanted to tell you that G has been asking to watch her signing time DVDs. This morning she signed " signing time, help" and stood there waiting with those big brown eyes for me to get up and put her DVD on. I have been visiting the website and I am trying to pick out the next video to purchase.
It would be logical to pick number 4 since we have 1-3
But if you know me,
I dont always do whats "expected".....